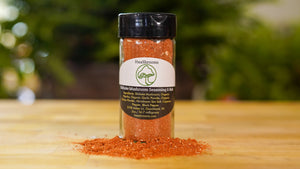 Shiitake Mushroom Seasoning and Rub is perfect for adding into at recipe or topping on any dish! 
Ingredients: Shiitake Mushrooms, Organic Paprika, Organic Garlic Powder, Organic Onion Powder, Himalayan Sea Salt, Cayenne Pepper and Black Pepper. 
Haashrooms uses the whole fruiting body when wildcrafting their products which means you get the most benefits.