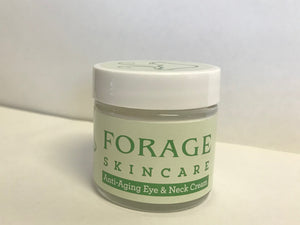 Forage Skincare's Anti-Aging Eye and Neck Cream with Tremella Mushroom Complex is designed to slow and reverse the signs of aging by harnessing the healing and restorative properties of Tremella mushrooms.

Tremella mushrooms have been used in Asian cultures for thousands of years for their healing and restorative properties. The Tremella mushroom supports production of hyaluronic acid in our skin, which naturally declines with age.

The water binding capabilities of the Tremella assist with locking in moisture, allowing the skin to stay hydrated, maintaining suppleness and structure. Rich with glucoronic acid, Tremellas help balance the skin's PH and hold betaglucans, stimulating collagen formations further reducing the appearance of fine lines around the eyes and decoupage.
Additionally, abundant polysaccharides carry moisture deep into skin cells, locking in nutrients allowing the skin to achieve greater suppleness and elasticity, reducing puffiness under the eyes.

Apply daily to cleansed skin.